Get ready to dive into Issue 4. So much has changed since we were last together. It seems like many of us are moving between states of relief and grief, and all of this month's artists have something to say about coping. You'll read about moving forward while confronting the past, the many ways we offer each other consolation, and the deep, animal need for a collective howl of joy.
All week, we've been singing along with the playlist included at the end of Shane Rowland's piece. We hope you'll love it, too. Her words offer the kind of connection and community we crave.
"into alive now

inside cells of who we are

becoming utterly here"

— into alive now: choreographies of becoming

We hope that the latest issue offers you a soft place to land.
With our galactic gratitude,
Leigh Hopkins
and the Corporeal Writing Squad
---
Issue 4 Highlights
The Kissing Games by Featured Writer Tammy Delatorre / artwork by Yael Peleg Zeelim
In addition to being named a 2020-2021 Steinbeck Fellow, this month's featured writer Tammy Delatorre has received many other literary awards, including the Payton Prize, Slippery Elm Prose Prize, CutBank's Montana Prize for Nonfiction, and Columbia Journal Fall Contest. Her writing has also appeared in Los Angeles Review, Zone 3, Hobart Online, The Rumpus, and Vice.
Her short fiction is paired with the embroidery of Israeli artist Yael Peleg Zeelim.
She calls him late one night, a stranger who slid his number across a bar.

"Of course, I remember you," he says. "Red dress. Mojito Mondays."
Read The Kissing Games.
---
Ghosts of her Migration by Featured Artist Samira Abbassy
During featured artist Samira Abbassy's 30 year career, her work has been acquired for private and public collections, including the Metropolitan Museum of Art, the British Museum, the British Government Art Collection, the Burger Collection, the Donald Rubin collection (Rubin Museum, NY), the Farjam Collection, Dubai; the Devi Foundation, India; the Omid foundation, Iran; and NYU's Grey Art Gallery Collection.
"I chose music and a quote to accompany my diptych, Ghosts of Her Migration,because both reflect the sense of homesickness and displacement conveyed in this piece."
Read Ghosts of Her Migration.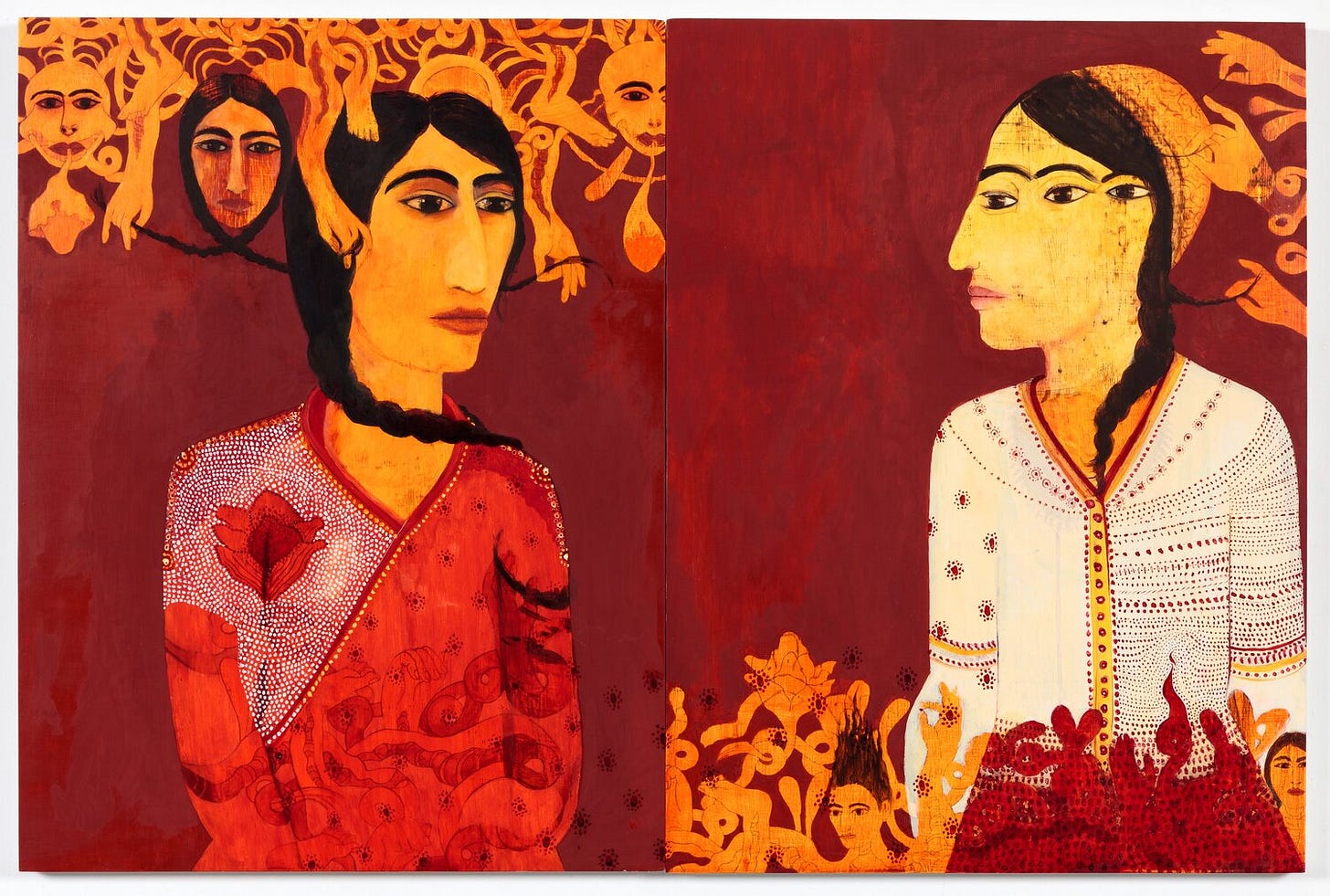 ---
While I Will Vaccinate by Sagirah Shahid / artwork by Christa David
"Before the Belmont report when the U.S. Government gathered 600 Black men

who tilled Alabama's blood stained terrain with their calloused hands, first generation

to grow up technically free, in the sense that…"
Read While I Will Vaccinate.